It's not often a girl gets recognition for all her blatherings at once! But today I was awarded the Versatile Blogger Award from another great blog Our Eventual Homestead (and Hillbilly Mom was gonna get me too but Britni got to me first). Thanks to both of you lovely Ladies and Fellow Bloggers. Your hard work does not go unnoticed and the versatility of your blogs is what keeps this Mama coming back over and over again.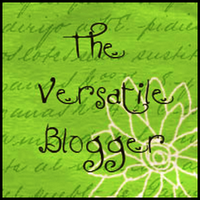 As I understand, here are my responsibilities:
Share 7 completely random pieces of information about myself.
Nominate 15 fellow bloggers for The Versatile Blogger Award.
Inform each nominated blogger of their nomination by posting a comment on each of their blogs.
Here are my 7 completely random facts:
Along with being a birth doula, I am a photographer and have THE BEST PHOTO COLLECTION OF HUMAN PLACENTAS ever compiled. Eeeeww, gross, but kinda cool.
I'm a city girl to the core but I am only a couple of generations removed from my farming relatives in Minnesota, and there is a part of me that longs for a deeper connection to them, their lives and how closely they lived to nature and sustainability.
If I could, I would start a commune and live on it 'til I died. Yes, I really would.
I love words, love them. They are a shield, a song, a bouquet, an arsenal, a salve. They can be anything to anybody. They are a dangerous responsibility, an honored stewardship of our race. BUT I CANNOT SPELL WORTH BEANS.
I've probably got several disorders, but refuse to be diagnosed. I've been asked if I was: bipolar, OCD, ADD, ADHD, manic, hyperactive and others that I cannot remember. I say, if my "disorder" gets this much done, and can learn a new craft every other year, gardens, cleans, crochets, cooks, beads, photographs, eats, loves, worships and laughs this hard on all of life, let's just leave it alone.
My pinky toes curl under my feet and my dad calls them my 'dew claws.'
I can throw a ball farther, harder and more accurately than any boy I've ever known. I love carnival games!
I hope that's random enough for you all. Now this is the hard part, I need to narrow down 15 amazing folks to pass The Versatile Blogger Award on to. It's possible that some of my favorite blogs have already received this award but it's okay by me if they get it twice! Mine tend toward the crafty, artsy, homey sites. Here we go, not in any particular order:
I hope you enjoy browsing these blogs and let them know who sent you!